About CROSS
The Center for Research in Open Source Software (CROSS) was founded in 2015 by Carlos Maltzahn with a generous gift of $2,000,000 from alumnus Sage Weil and the founding memberships of Toshiba America Electronic Components, SK Hynix Memory Solutions, and Micron Technology.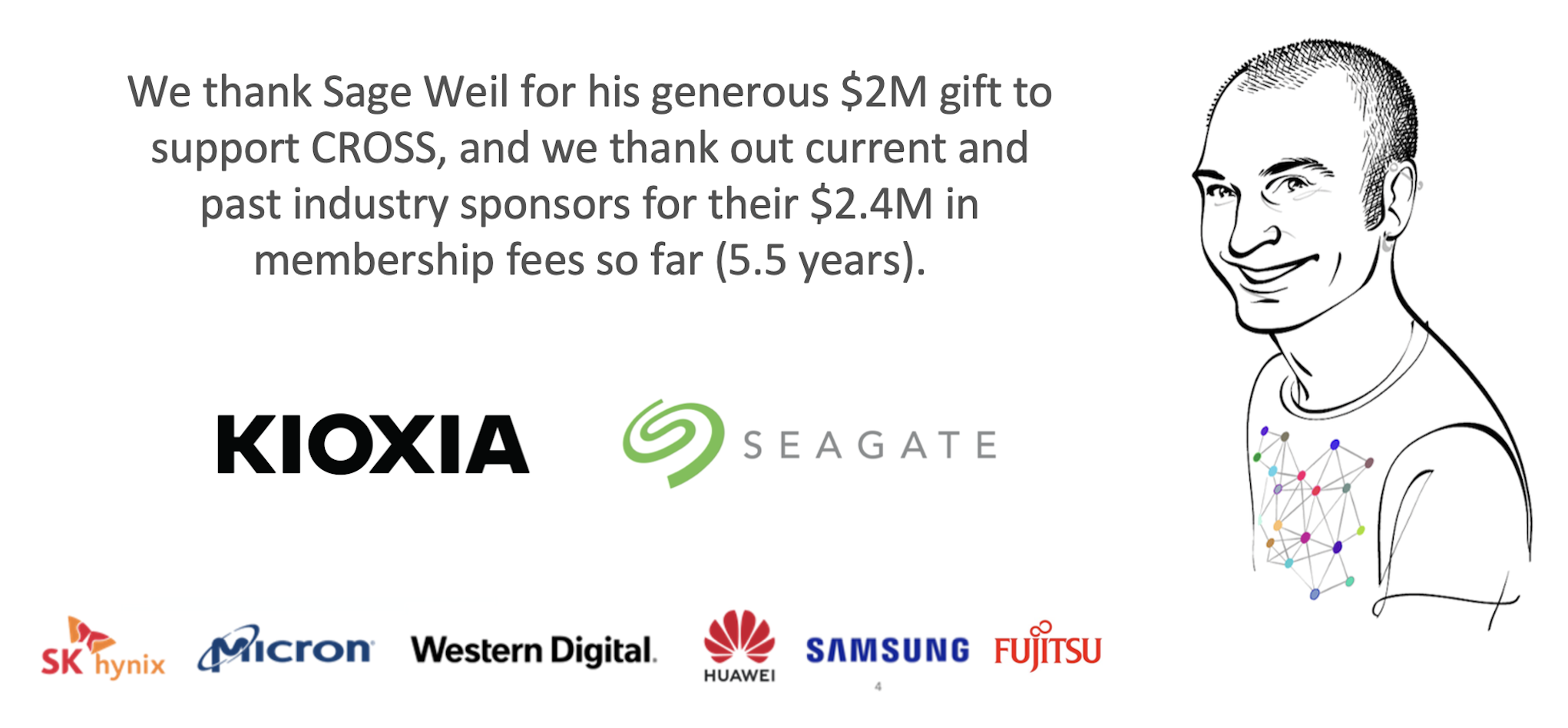 CROSS is enabling students to follow a career path similar to Sage Weil's who created the Ceph storage system as part of his Ph.D. work at UC Santa Cruz: we create open source leaders by blending open source software strategies with graduate-level research in a concentrated environment of mentorship and interaction with world class industry, academia, and open source experts. CROSS transfers cutting-edge technology resulting from student research to industry via successful open source projects. Our proximity to Silicon Valley allows us to match our world class research expertise with leading tech experts. We draw from this expertise to choose projects that have a high potential for impact. Our projects are mentored and guided by a team of experts chosen specifically to best ensure success.

CROSS is led by Director Carlos Maltzahn and Assistant Director Stephanie Lieggi, with the help of the Industry Advisory Board consisting of industry members and the Advisory Committee consisting of UCSC-appointed open source software and entrepreneurship experts, including Doug Cutting (Founder of the Apache Lucene, Nutch, Hadoop and Avro projects), Nithya Ruff (Comcast), Karen Sandler (Software Freedom Conservancy), Nissa Strottman (Visa), Sage Weil (Red Hat), and James Davis (UCSC).
The CROSS stakeholders and their benefits are:
Industry gets to:
Leverage open source software to create and shape new markets
Network with talent and potential recruits
Influence education, research, and the next generation OSS systems
Talent (Students, Postdocs) can:
Become an OSS leader and well-known expert
Learn how to get systems built
Know where to find the right tools & technologies
UC Santa Cruz gets to:
Efficiently transfer technology and strengthen its beacon of innovation
Attract and fund talented graduate students
Leveragge the OSS communities and technologies for education and research
Continue on to How We Work.
See
Also