CROSS Research Symposium , Oct 11-14, 2021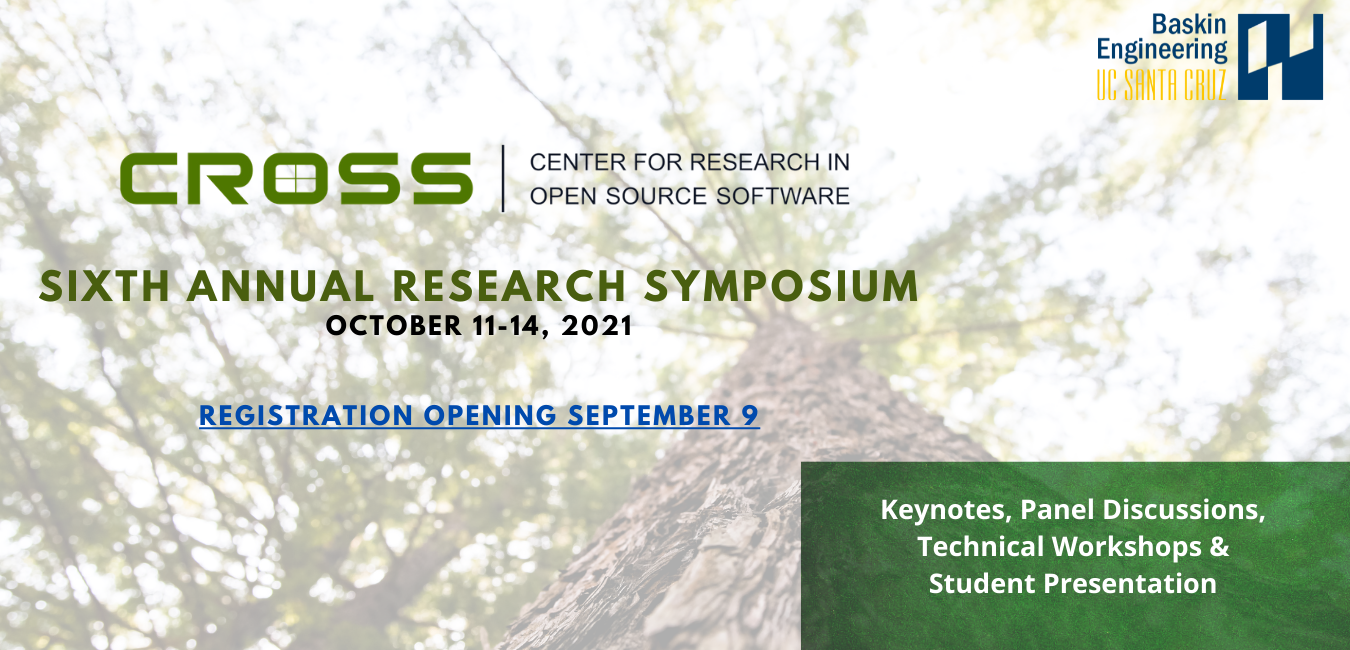 The CROSS Symposium is coming up! Registration is now open!
Contact us if you want to be alerted when new details are available.
This remote event will provide an opportunity to learn about the research being done by CROSS fellows and affiliated faculty, interact with CROSS and other UC Santa Cruz faculty, graduate students, and affiliated researchers, and discuss future directions and collaborative research projects at UC Santa Cruz. Each day will include a plenary session, keynotes, and continue with topic-specific workshops.
This year's workshops will cover a range of topics including sessions focused on the work of on-oing and up-coming CROSS projects, along with other exciting research topics that could benefit from working in open source ecosystems. This year we will also once again highlight our Open Source Research Experience contributors with dedicated lightning talk sessions.
Registration is free. Links to join meeting will be provided after registration
Preliminary Agenda
Still subject to change - check back for more updates
Monday, October 11
agenda for day's sessions

8:45-9:15

Welcome and Agenda Overview

Chairs: Carlos Maltzahn and Stephanie Lieggi, UC Santa Cruz

9:15-10:00

Keynote:

Sarah Novotny, Open Source Wonk, Azure Office of the CTO, Microsoft


Workshop Sessions

10:10-11:40

 

Programmable Storage

Chair: Carlos Maltzahn, UC Santa Cruz





Aspects of Data Management 

Chairs: Phokion Kolaitis, UC Santa Cruz & Akhil Dixit, Google

11:50-12:30

Open Source Research Experience Summer 2021 - Overview & Student Lightning Talks
Tuesday, October 12
agenda for day's sessions

8:45-9:00

Welcome and Agenda Overview

Workshop Sessions

9:00-10:30

SmartNICs and Eusocial Storage Devices

Chair: Jianshen Liu, UC Santa Cruz

Open Source Autonomous Vehicle Technology

Chairs: Aaron Hunter and Pavlo Vlastos, UC Santa Cruz

10:40-12:10

Panel Discussion on Community Health and Diversity in Open Source Ecosystems

Chair: Carmen Robinson, UC Santa Cruz
Wednesday, October 13
agenda for day's sessions

8:45-9:00

Welcome and Agenda Overview

Carlos Maltzahn and Stephanie Lieggi

9:00-9:45

Keynote:

Deb Nicholson, General Manager, Open Source Initiative 

Workshop Sessions

9:50-11:05

Distributed Systems

9:50-12:00

OS Hardware Roundtable


Chairs: Jose Renau & Sheng-Hong Wang, UC Santa Cruz

11:10-12:30

Reproducibility
Thursday, October 14
agenda for day's sessions

8:45-9:00

Welcome and Agenda Overview

Carlos Maltzahn and Stephanie Lieggi

9:00-9:50

 Open Source Research Experience Summer 2021 -Student Lightning Talks 

Workshop Sessions

9:55-11:15

Storage Systems

Data Science and Visualization

Chair: Oskar Elek 

11:20-12:30

Open Source @ UC - Panel Discussion

Chair: Carlos Maltzahn 
See
Also